"Am I not merciful?"
"Don't look at me!"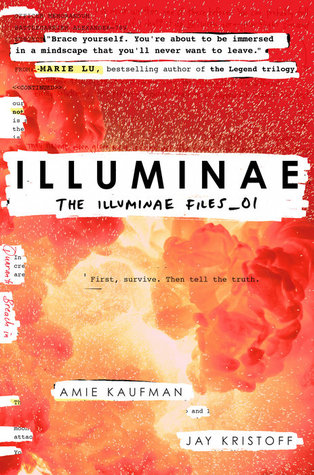 Title: Illuminae: The Illuminae Files_01
Author: Amie Kaufman and Jay Kristoff
ISBN: 9780553499117
Publication Date: October 20, 2015
Publisher: Knopf Books for Young Readers
This morning, Kady thought breaking up with Ezra was the hardest thing she'd have to do.
This afternoon, her planet was invaded.
The year is 2575, and two rival megacorporations are at war over a planet that's little more than an ice-covered speck at the edge of the universe. Too bad nobody thought to warn the people living on it. With enemy fire raining down on them, Kady and Ezra—who are barely even talking to each other—are forced to fight their way onto an evacuating fleet, with an enemy warship in hot pursuit.
But their problems are just getting started. A deadly plague has broken out and is mutating, with terrifying results; the fleet's AI, which should be protecting them, may actually be their enemy; and nobody in charge will say what's really going on. As Kady hacks into a tangled web of data to find the truth, it's clear only one person can help her bring it all to light: the ex-boyfriend she
swore
she'd never speak to again.
~*~
Asdfghjkl!!!
Holy freaking cats, what the
fuck
did I just read? This book is so freaking amazing, and I typically don't go for anything on the scifi end of the YA spectrum because I'm not a big scifi fan. But this book, this wonderful, amazing, perfect, horrible book was all I could hear about on my Twitter feed, in my Instagram, and every other social media site from 99.9% of the bloggers I follow. So, being the
good lemming
well informed reader/blogger that I am, I went on a quest to see if I might be allowed the privilege of reading it. Thank my luck stars Knopf was feeling generous because otherwise I more than likely would have stayed in the dark about the awesomeness that is
Illuminae
.
I loved the method of storytelling Kaufman and Kristoff employed; the mixture of IM, email, report, pictures, and interview all work together to bring you a novel that is more than just some romance set in space.
Illuminae
is a non-stop thrill ride from the very beginning when we're hurled into a massive attack on an illegal mining colony. There we meet Kady and Ezra, a freshly broken up couple, as they struggle to comprehend what is happening.
Even though we never officially slip into either teen's head, we're still given a full bodied vision of their characterization. Ezra is a very romantic, young man who is so down to earth and sarcastic that he compliments Kady's truth seeking fierceness, and outward appearance of fearlessness so wonderfully.
Then we have AIDAN. *shudders* AIDAN is the artificial intelligence in the main warship Alexander. Let's just say that AIDAN has a GlaDOS like 'personality', and it is written so, so well it's quite terrifying. Especially in today's world, where technology is just a small step from the AI level AIDAN operates on.
Add to all this an interstellar war between two megacorporations, one of which has no care for the human life they snuff out as long as they come out on top, and a mutating virus that''ll leave you fearing the phrase 'don't look at me', and you've got the basic framework of this masterpiece. I am soooooo in love with this book that I'm heading for the nearest bookstore on
Illuminae's
release day, to acquire a shiny hardcover copy for my library.
Now, if only book two could hurry up and get here so I can find out what happens next; hopefully with the same level of freaky and wonderful I found in book one.
-Digital ARC provided by publisher via
NetGalley
, in exchange for a review.